Keyword Density Checker Plugin for Wordpress Blogs
This wordpress plugin is a SEO checker tool to keep track of the content – written text – of a single page or post. With it you can check if the keywords you want to optimize your page or post for has been used in the desired frequency on the single web page. The keyword density is an indicator for the relevance of a page for a specific keyword or phrase.
The keyword density checker plugin can be used for informational purposes only. It is automatically calculating the keyword densities of the pages or posts content. Among that a keywords meta suggestion can be used to get a list of the most frequently used keywords.
This is a branch of the keyword statistics plugin. It is only calculating the keyword density for single and 2-/3-word keyphrases. Different from the statistics plugin, the density checker is running at your blogs backend only. No code will be executed while regular page requests.
Features of this Plugin
keyword density will be checked for single keywords and keyphrases simultaneously with the content creation
Suggestion for keywords meta tag will be generated
Included language specific stopword lists
Optional filtering stopwords
Automatic update can be switched off or interval can be changed
Statistics for 2- and 3-word phrases can be switched off
Default language and stopword filter status for ordinary author accounts
Allow or disallow authors and contributors to change the status of stopword filter and the content language
Integrated stopword lists for brazilian portoguese, dutch, english, german and turkish language
Screenshots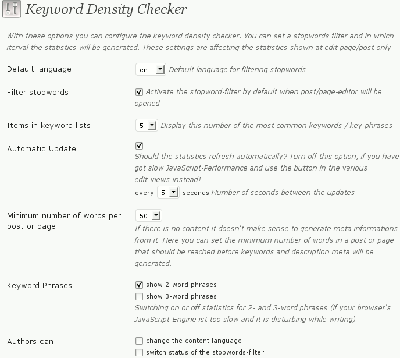 Administration page of the keyword density plugin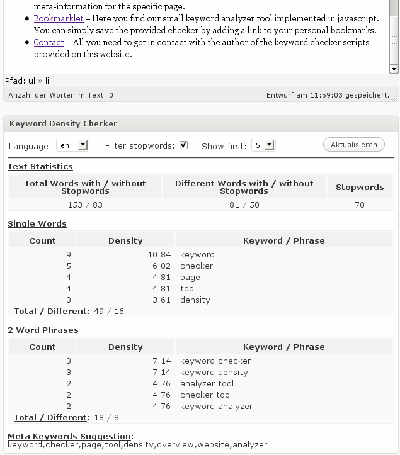 Additional box with the keyword densities at post-/page-edit